---

The Kleenoil Bypass Filter System is a bypass oil filtration system that passes only a small portion of the total oil flow through a very dense filter cartridge at about 2 to 3 quarts per minute. At this speed, it is possible to remove particles down to 1 micron (3 absolute) and remove 99.95% of all water, greatly decreasing engine wear and prolonging oil life. Kleenoil can eliminate water and particle contamination, extend oil life up to 5 times and hydraulic oil up to 10 times, reduce engine wear and component wear, dramatically reduce downtime, remove particles down to 1 micron (3 absolute), and is applicable to engines as well as hydraulic systems.

The Kleenoil USA filtration unit is made of cast aluminum with a galvanized steel mounting bracket. There are five basic sizes, which are installed according to the applications table below. It is connected to the engine lubricating oil circulating system in a bypass loop using high pressure braided hose and fittings to SAE standards.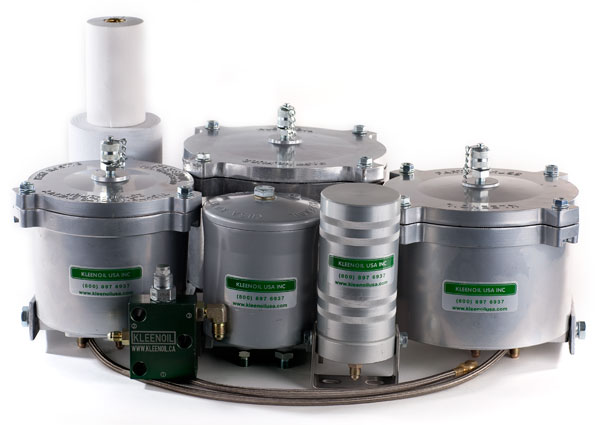 For complete information and specifications on KleenOil - Bypass Filter Systems see our product information link below.
For details or more information on installation or application call us or send us a message using our "About Us" page message box.
 KleenOil - Bypass Filter Systems information page
---
Share this Product
---
More from this collection